About 1 Stop Mechanical
Established in 2009, 1 Stop Mechanical is a Class A HVAC, Plumbing, and Electrical contractor serving the Washington DC Metropolitan Area.
About Us
Forward Thinking
1 Stop Mechanical is on the cutting edge of HVAC and plumbing, therefore we're providing energy efficient ways to help with rising energy costs. Also, in April of 2016, 1 Stop Mechanical was introduced to the Perma-Liner company and immediately saw the wave of the future. Cured In Place Pipe or CIPP for any type of pipe rehabilitation. Furthermore, we've invested in a turnkey solution that we know will help with our customers aging infrastructure with almost little to no digging of their site. We can restore your main sewer pipe with minimal to no disruption to the surrounding area, and as a result we're saving our customers money.
Our History
Eight years ago two master tradesmen opened 1 Stop Mechanical Inc., Bob Rush with more than 30 years of experience in the residential and commercial sector of HVAC and electrical and Jon Beauchamp with nearly 30 years of residential and commercial HVAC and plumbing experience. In addition to these men, we have a crew of techs with up to 18 years of experience. Most of all, we're providing top quality service with years of experience. Today, 1 Stop Mechanical continues to grow and provide HVAC, plumbing and electrical services to residential, commercial, industrial and government customers in the D.C., Maryland and Virginia area. 
Our Mission
1 Stop Mechanical's mission is clear, provide top quality services to our neighbors, cost-effective solutions to any homeowners plumbing, HVAC and electrical problems and solve the issue the first go around. Therefore, our team is here for you and ready to help. Our technicians take the time to explain what needs to be done, why it needs to be done and provide you with an honest solution. Call us today to set up your next system check.   
Hero's Homecoming
Being a disabled vet myself says Bob Rush, President of 1 Stop Mechanical Inc. We are proud of our work with the Wounded Warrior Project. We installed all of the plumbing in the house. HelpingAHero.org. While staying busy, we do as much as we can to help our community.
Residential, Commercial, Industrial and Government Services
Sewer backups (corrective and preventative maintenance)
Sewer main (install, repair and replace)
Sewer Relining (CIPP)
Camera inspections
Snaking/Unclogging Drains
Pipe Cleaning/Jetting
Check valves and back-flow
Sump pumps and battery backup (install, repair and replace)
Supply lines and water mains (install, repair and replace)
Gas pipes and connections (install, repair and replace)
Water heater (install, repair and replace)
Repiping of home/building
Sink and bath plumbing (install, repair and replace)
Perform routine maintenance
Check thermostat calibration
Condensation drain (check and clean)
Blower fan (check and clean)
Check refrigerant pressures for proper temperature drop
Outdoor coils (check and clean)
Energy efficient heating and cooling systems (Install, repair and replace)
Install and maintain zoned climate control systems
Residential, Commercial, Industrial and Government Services
Please visit our areas served pages to learn more about the cities in our service area: Areas Served 
Repipe Project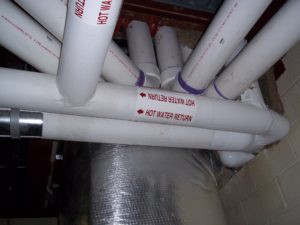 New Duct Work Installation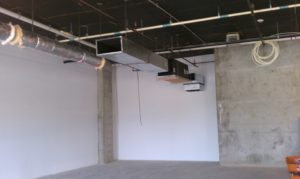 3 Handled Shower Valve Repair